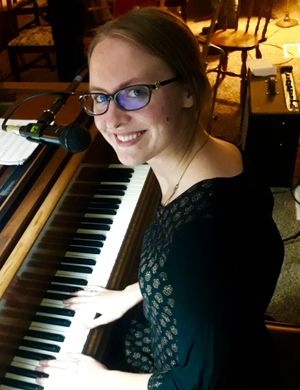 Hello friends, 
Congratulations! You've found it! My brand-spanking-new website. 
I am so excited to share with you everything I have to offer at this growth moment in my musical career. Please have a look around my website and find: 
A collection of live recordings that give a sense of my voice as a singer-songwriter
A gallery of photos from the past few years showcasing my musical growth and performances
A bio that will tell you more about my journey and who I am 
A list of services that I am excited to provide as a musician
I am also excited to announce a few new projects that I am embarking upon, which I will be sharing more about in the coming months:
Releasing my first-ever professionally-produced single, "Waiting"!
Attending Musicians Without Borders' training in the Netherlands on using music as a means of peace-building in post-conflict areas
Collaborating with other female singer-songwriters to create a songwriting workshop for the women incarcerated at Swannanoa Correctional Center for Women
Exploring becoming involved in the board of the new Women's Music Collective of Appalachia, run out of Boone, NC by the singer-songwriter Earliene
Offering music as a means of healing in elder care homes
Please feel free to reach out via my contact page if you want to know more or have any suggestions for improving my site. I look forward to hearing from you and getting to know you.
Yours in song,
Marika